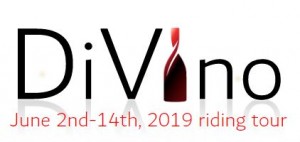 The Italian wine & food experience
that you'll never forget
Shawna Boni has organized what should prove to be an amazing Italian trip. Here is her announcement of the DiVino riding tour:
Dear Scramblers,

Whether the group will be small or large, I guarantee you a unique experience. This trip will include visits to wineries where you will taste some of Italy's best wines such as Amarone and Prosecco along with some wines you have never tasted before! You will find yourself surrounded by vineyards, lakes, rolling hills, mountains and castles. The numerous riding itineraries will allow you to ride as much as you wish. Of course, you will be spoiled with delicious Italian dishes throughout this journey and a peaceful sleep each night.

John (Gian) will ride with you to some of the most beautiful places while I will guide you thru your culinary experience as a certified Wine Sommelier. We are looking forward to sharing this trip with you all, to finally see our dear friends again, along with some new faces too.

Shawna
View the DiVino Riding Tour Flyer
The only two days that everyone's bikes will touch flat roads will be from Verona to Parma and from Romagna to Venice. Lake Garda is unique as it located not far from the Alps yet has the Positano type of weather with lemons and wine growing all over the place. In early June, the weather should be great for riding in all the areas. There will be lots of castles to visit or just pass by to see. Shawna has planned several different culinary experiences. 
You will be in Italy. Let every riding moment be pleasurable! For that reason, Shawna recommends renting a luggage van or, if the group is small she will use her Volvo.
As you know, when planning a great European Trip, places to stay, bikes to rent and so many other considerations are based on the number of people on the trip. For these reasons we need an early commitment and a non-refundable down payment.
If you have any questions, please contact Ann Willey at <annmwilley@gmail.com> or 708-228-4701.
$1,000 per person by June 30, 2018, yes that's 2018.  The overnight accommodations need to be booked early. Please make your check out to the Streeterville Scramblers and mail to
Roger Ensminger
22 Revere
South Barrington IL 60010